Our Suppliers
QUALITY – Belmont Roofing operates an accredited Quality Management System to ISO 9001:2008 which has been in place since 1993. The success of the company relies upon customer satisfaction.
Many thousands of businesses have benefited from talking to our experts over the years as we offer independent advice and work closely with the market leading suppliers in sheeting and flat roofing products and can offer comprehensive insurance – backed guarantees when required.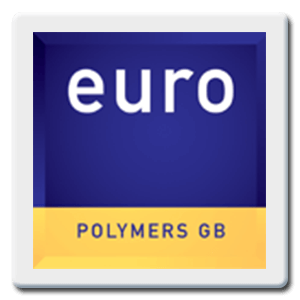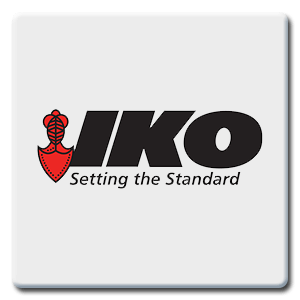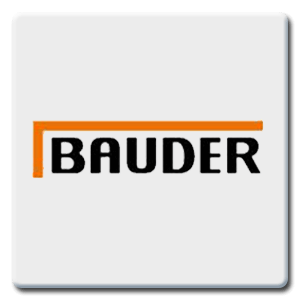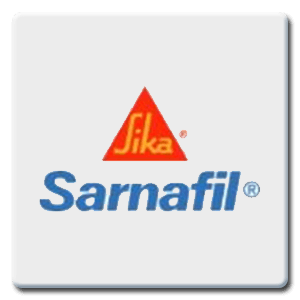 Our surveyors will offer free, practical and unbiased advice.
If the roof can simply be patched we will tell you. If complete re-covering is the only solution we will take core samples to establish the construction details and the condition of the insulation. We will advise on whether you will need to increase the thickness of the insulation to meet current "U" values.
Over-laying is less disruptive and more cost effective but before offering this as a solution the roof should be inspected thoroughly by a competent and experienced roof surveyor/estimator. Core samples may be required to establish the roof "build-up" and to confirm the decking is structurally sound and dry and capable of being over-laid.
If the decking or insulation (if any) is saturated the cause may be condensation rather than roof leaks and over-laying may not be suitable.
There are systems available from Belmont Roofing to suit nearly every building design, from major refurbishment or new-build projects down to small residential developments, blocks of flats or commercial buildings etc.
We use a range of material to suit each building design or client requirement.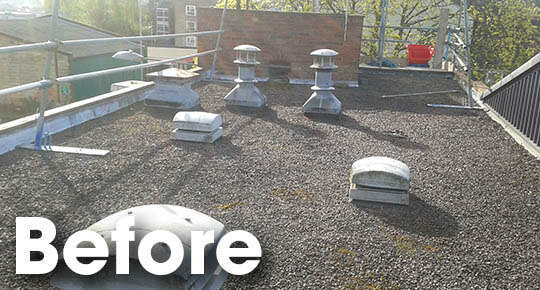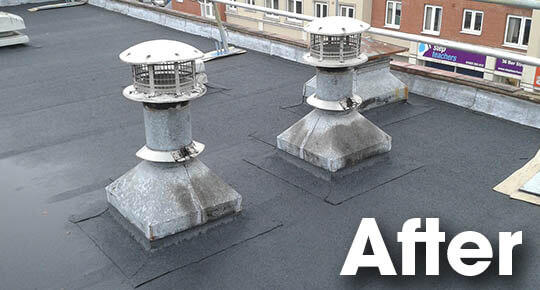 An old failed roof covered in granite chippings makes it difficult to locate and seal roof leaks,. Belmont stripped and replaced the roof with a mineral finished bitumen based felt which will give a new life expectancy of at least 20 years or so.
Guarantees: Having a job properly executed by a professional and established company and where quality is key and life expectancy of the system maximised is surely more important than a (so called) guarantee which are often unenforceable. We see countless failures where there had been "labour and material" guarantees" but the contractor is no longer trading and the manufacturer refuses to put their work right because they were unaware of the project.
Belmont can offer true bona fide specific project " labour and material warranties" where requested and we will involve the manufacturer in specification writing and it will be them offering the warranty direct to the client. These can also be insurance backed.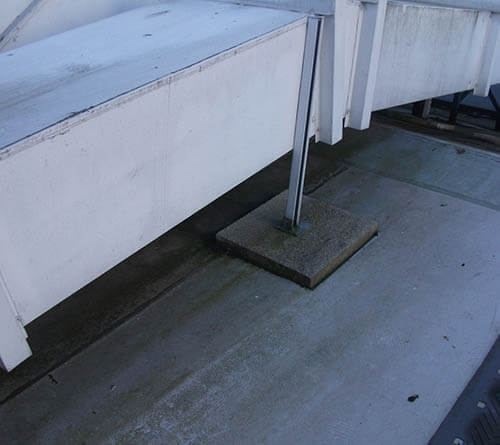 Theatre Royal Norwich: Pipework and trunking made a liquid coating the only possible solution.
Liquid Applied Coatings – No Flame Systems: Liquid plastic systems employed by Belmont Roofing are a far cry from the old traditional brush applied bitumen coatings which gave flat roofing and coatings in general, a bad name. Modern technology of cold, liquid applied resins or liquid plastics offer a long term lasting solution to leaking flat roofs and by working closely with manufacturers, Belmont Roofing can involve them at survey stage and provide the customer with stage inspections and insurance-backed 20 year warranties. For a typical example of an inspection report and warranty details, click here to read more about Liquid Applied Coatings.
Europolymer is promoted by Belmont Roofing in many situations such as balconies, terraces, walkways, gutter linings, failed or damaged single- ply roofs, traditional felt or asphalt and even car parks as the system has rapid curing times (from as little as 20 minutes). Belmont have been involved in countless liquid coating applications to metal sheeted roofs suffering from corrosion or cut-edge delamination, click here to read more Specialist Painting.
Being brush or roller applied, awkward details below trunking and extractors etc. can be treated.
A major benefit is the speed of application and avoidance of torch-applied systems or naked flame and is particularly important within the petro-chemical industry.
Single Ply: Belmont Roofing has successfully laid many thousand metres of single ply membranes to a variety of new and refurbishment projects.
It is a high performance modern system suitable for most types of roof construction.
Single ply is very adaptable and can be used in a variety of applications as well as traditional flat roof designs including vertical surfaces, pitched, barrelled and vaulted.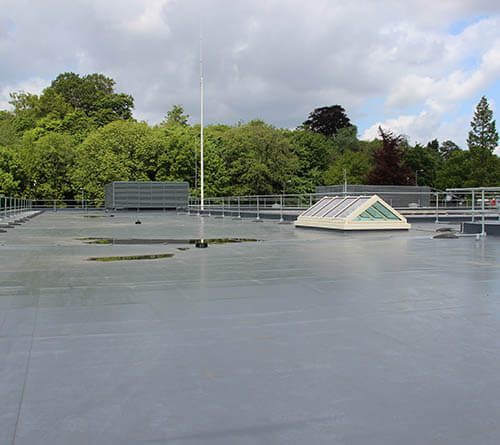 An example of a single play overlay County Hall Norwich
Aesthetics are often critical to planners and architects. Single ply has the benefit that it is flexible and available in a range of attractive colours.
Lead Alternative: Where lead is vulnerable to theft, Belmont can offer a lead coloured single ply alternative. By using traditional roll battens, the system closely resembles the traditional appearance of lead and satisfies planners- as well as frustrating thieves!
Ballasted systems are also available from Belmont Roofing.
Single ply can avoid the use of naked flame and bitumen boilers as hot air welding techniques are used instead.
Benefits to the client in using single ply include:
Refurbishment:
Avoids the use of naked flame (this may be a critical requirement of some insurance companies).
Speed of application. Programmes such as meeting school holidays, factory shut down periods etc.
Avoids the smell of hot bitumen entering the building through air conditioning etc.
Avoids the use of hot work certificates.
Long-lasting, permanent waterproofing systems.
Total project guarantees are available to include design, materials and installation.
New Build:
Architects, designers and main contractors have been aware of the advantages of specifying single ply and has been the first choice for thousands of schemes.
Speed of application, single ply systems have been proven for over 30 years and is often first choice for this reason, combined with cost effectiveness.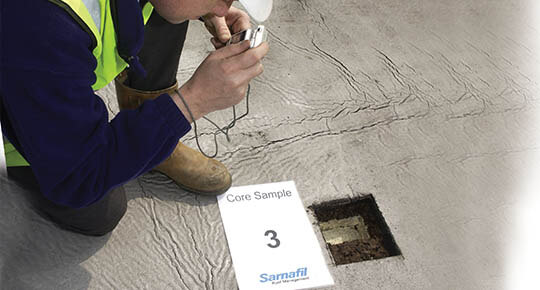 Core samples being taken to determine the roof construction and condition before offering a solution.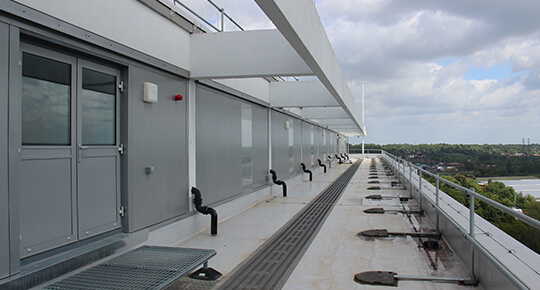 Sarnafil single-ply and a new fall restraint system by Belmont Roofing.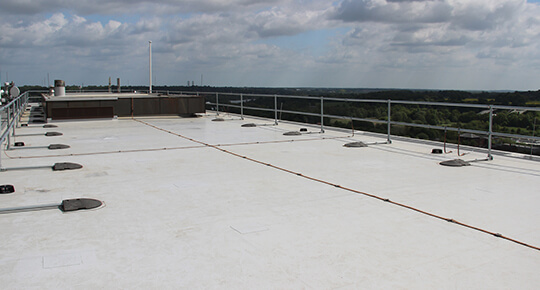 New insulated single ply roof installed by Belmont Roofing for City College complete with a permanent fall restraint system.
Sarnafil Single Ply PVC Membrane: Sarnafil is one of the systems used by Belmont Roofing with great success. It is a modern and very advanced fully bonded, glass reinforced, plasticised PVC flat roofing system with hot air welded lap joints. Sarnafil membranes can be installed to flat or pitched roofs of practically any shape or configuration and are designed to withstand the rigours of the modern environment and to perform even in areas of standing water. Sarnafil can be fixed in many different ways to suit the project design from fully adhered through to ballasted roofs including green roofs where a roof garden is required.
Kingspan Topdek: Kingspan Topdek is a shallow pitch solution combining Sarnafil single ply with composite roof panels. It is a factory engineered roof system comprising a high performance single ply PVC membrane with firesafe core insulation all bonded to a trapezoidal steel deck. Topdek provides fast build single fix installation with a unique helical self coring fastener with all the benefits of a single ply roofing system combined with the speed of installation and airtightnes properties of a composite panel roof system all rolled into one.
Traditional Built-up Felt: Belmont Roofing carry out traditional built-up or torch-applied systems where requested or where the situation warrants this approach. We work with a number of leading manufacturers.
Flat-to-pitch systems:
If the customer wants to remove the flat roof and or is concerned with ponding water, we offer a steel sheet alternative which is designed to create new falls.  New falls can of course be achieved by the use of tapered insulation.