Asbestos Roofing- What are my Options?
Begin with a survey…
We will not be able to advise on you Asbestos roofing options until we have seen the roof and discussed the practicalities and seen the problems first hand.
Asbestos Roofing Survey…
Asbestos cement and fibre cement-based roofs are fragile and dangerous and maintenance and repair such as gutter cleaning or fixing leaks is the biggest cause of fatalities in the construction industry. Maintenance using correct safety equipment is costly and often good housekeeping is put off.
Our in-house experienced surveying estimators will visit site and assess the problems, listen to your objectives and provide a tailored specification to suit your budget. Safety and access will be fully considered. All our surveying estimators have a wealth of knowledge and experience and the safety of everyone involved with the project, however large or small will be a priority.
A site visit with the client will involve discussions on such matters as:
Tenure of the property i.e. length of lease remaining.
Anticipated or required life expectancy of the building.
Customer expectations.
Budget constraints.
Planning and programming.
Performance benefits and warranties.
We can arrange for an intrusive inspection i.e. we will lift a panel to inspect the cause of the problem and see if there is any insulation present. Condensation may be a cause?
We can even provide a drone inspection service if access to your roof is awkward or dangerous, providing significant savings against the cost of traditional access equipment such as scaffolding. Condition reports and budget costings can be part of this service.
Asbestos Roofing Options | Decide on the best approach for you…
The customer may only wish for basic repairs to be carried out and we are happy to carry this out on your behalf using our directly employed teams of experienced operatives. We offer a competitive maintenance programme including roof and gutter cleaning, replacing cracked sheets and or roof lights, sealing leaking fixings and carrying out basic repairs. Often chimney and extract flues require purpose made soakers and is all part of our service.
Safety precautions will be appropriate for the scope of works and cherry pickers can be used for short duration work i.e for sealing leaks. We will provide a detailed health & safety plan on receipt of your order.
With ever increasing concerns with trapping asbestos in buildings, Belmont recommends stripping and re- sheeting using a modern- day factory insulated "composite" metal sheet.
Advantages
Being a one- component product, there is little chance of system failures as there is no requirement for vapour barriers or breather membranes.
If the thickness of the insulation meets required "U" values the customer knows that he is complying with building regulations.
Composite roof sheeting is lightweight and attractive both externally as well as internally.
The sheet comes with a long manufacturer's warranty.
Condensation within the roofing panel is eliminated as there are no voids.
Quick and easy to install minimising the risk of exposure to the elements.
New insulated roof lights can be incorporated and placed where required and not having to follow the existing roof light pattern as with over- roofing.
If "Mansafe/Stepsafe" roof lights are used the roof can be classed as "non- fragile" and will conform to HSG 33 (which is part of the customer's obligation to achieve)
The building will be modernised and the customer will have peace of mind that he is protecting his investment for many years to come and not leaving the issue of the inevitable requirement for asbestos removal for future generations.
Whilst the building is being replaced, we can increase the gutter dimensions (within building design restrictions).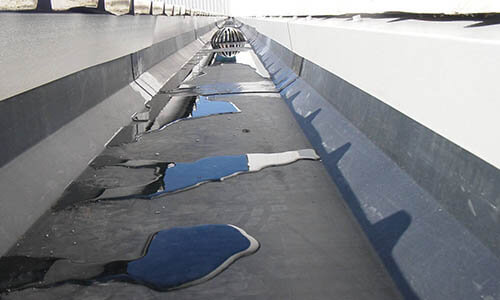 NB/Generous tax incentives are available to strip and remove asbestos. This is not widely known and Belmont will be pleased to discuss this aspect in more depth.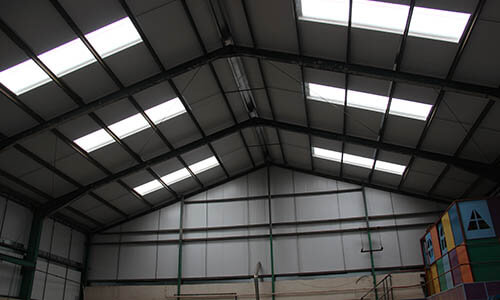 The existing roof is left in situ and a new lightweight support structure to the existing roof. Other methods include a rigid G.R.P spacer profiled to match the old and new sheets. Before comparing quotes, the following points should be considered:
There will be additional weight loading. Increased snow loading will allow occur. A structural engineer should be appointed to confirm this will be within building tolerance.
The method of fixing involves drilling through the asbestos. The dust will be trapped between the new and old roof. Your asbestos register needs to confirm the roof is standard chrysotile or additional safety methods employed.
Over- roofing the existing roof lights will reduce the natural light. Do the existing roof lights require replacement?
Is the valley gutter going to be made more difficult to repair and maintained in the future by narrowing the space within the void? Belmont will always try to increase the dimensions as part of good roofing practice.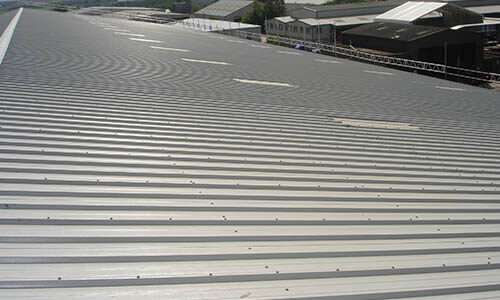 There will be no aesthetic benefit within the building.
Trapping the old fragile asbestos roof means that this is a hidden cost which must be faced at some time in the future, even if only for demolition. It may be a limiting factor for any future building purchaser.
There is too many opportunities for not complying with good roofing practice to win jobs by cutting corners.
Customer Obligation With Insulating Roofs Whilst Over- Roofing
Any roofing work involving more than 50% of the roof area requires local authority building control notification. Thermal efficiency to comply with current building regulations will be expected to be achieved and the building control officer may carry out retrospective random roof inspections and or demand to see proof that current "U" values have been met. Both the contractor and building owner can be fined if this has not been met and the roof required to be stripped and insulation added to achieve the standards. Merely adding quilt insulation is unlikely to be sufficient.
Vapour Barriers and Breather Membranes.
(1) A breather membrane is flexible, non- woven high density polythene laid above the insulation and stretched to the outside of the eaves. It is there to allow any moisture to be taken to the outside of the building. If there is dew on the ground it is highly likely there will be condensation on the underside of the new single skin sheeting and if the breather membrane has been incorrectly omitted this can freeze on frosty days. Sudden thaw in sunshine allows a rapid thaw and the condensation can run to the original roof defects and appear as roof leaks.
The quilt insulation can become saturated reducing thermal efficiency and can also lead to rusting of the new sheet. The reverse coating does not have a plastisol finish and often premature rusting of the shet occurs. Cut edge corrosion is often blamed and sealing may not be the answer.
(2) Vapour barriers/vapour control layers are a separate component and are laid below the new insulation and old roof. It is recommended in heated buildings and areas of high humidity such as swimming pools, classrooms, kitchens etc.
If comparing quotations, please note that it is worth checking what thickness of insulation has been quoted, does it comply with building regulations and has a vapour barrier and breather membrane been included. This will have a significant impact on cost!
Generally, coatings are offered as a "cheap" alternative to re-roofing with "lack of disruption" being given as the main selling point. Many coatings have been known to fail within a very short life span especially if the roof has a heavy build-up of moss and lichen. If chemicals are used to remove this, sufficient time must be allowed for this to properly kill any spores to ensure the coating can be effective.
All asbestos fibres must be contained and removed as asbestos waste and certainly prevented from going into the drains and water course.